2018 SEMA Toyota Tacoma Project Part 3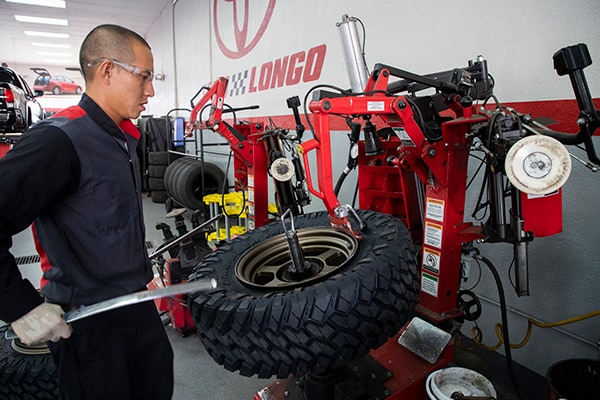 The final build phase of the Longo Toyota SEMA Show Tacoma project happens during a time that most car builders commonly refer to as the "SEMA Crunch." This is where the work goes nonstop, sleep is lost and your limits are pushed in order to complete a vehicle on time. Make a mistake here and things can go wrong quickly. After upgrading our suspension at Eibach, it was time to put the finishing touches on our Taco, and with only days before the show opens.
Armordillo Bull Bar
One common upgrade for overlanders is a bull bar. Armordillo, based in City of Industry, recently completed R&D on their latest bull bar, which includes a built-in light bar. Easy to install within minutes, all you need are a few hand tools and some electrical know-how to have the light bar functional. The Armordillo bull bar is a great addition, adding a bit of toughness to the front end (not to mention safety), helping to make our Tacoma look like a mini Tundra.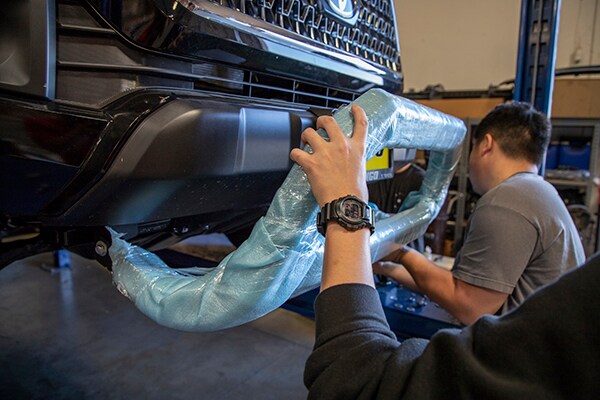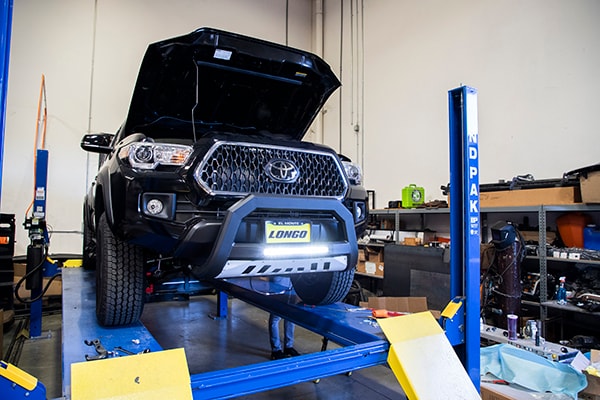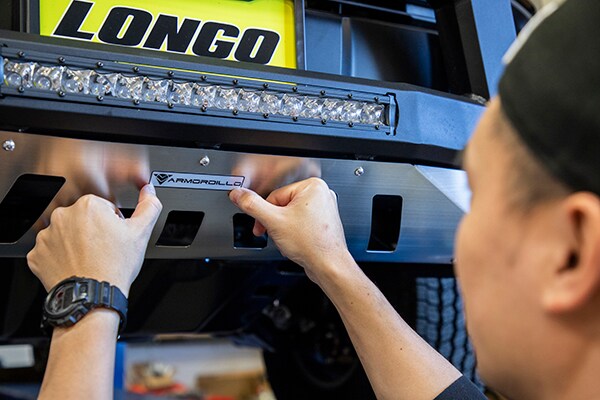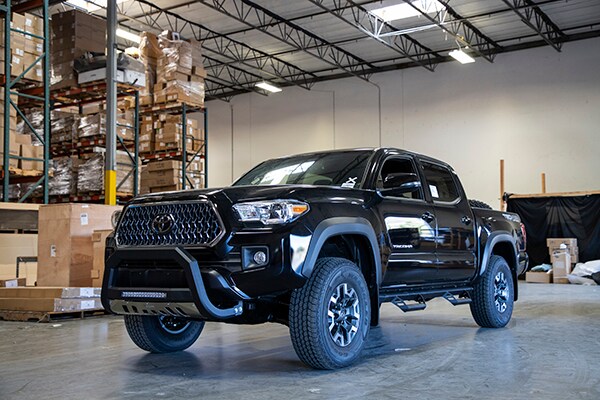 Volk Racing TE37 Wheels
One thing's for certain when it comes to JDM styling: add a set of TE37s and everyone loses their mind. And what kind of reaction do we want when people see the finished Taco? Minds blown. So, we added TEs. Made legendary because of its lightweight, forged properties and timeless design, it's one of the top wheel selections for racers, street enthusiasts and now the off-road segment.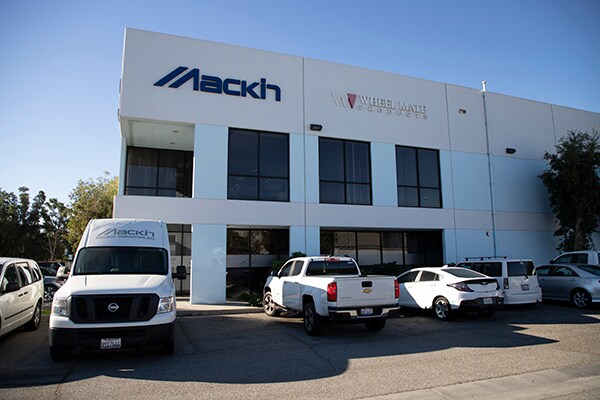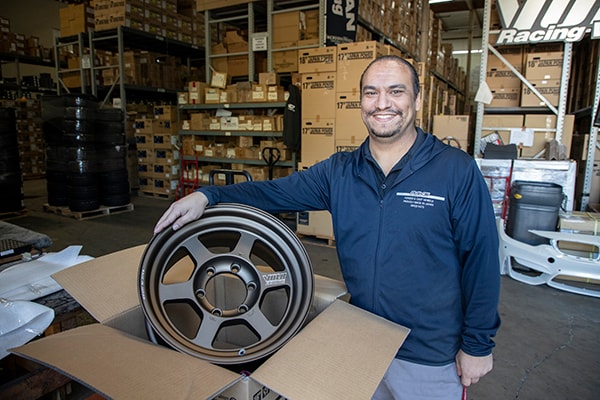 Nitto Trail Grappler Tires
With the new TEs, we had to add new rubber. And since we plan on doing some off-roading in the future, we needed a tire upgrade that provides exceptional off-road capability while maintaining street comfort. Enter Nitto's Trail Grappler: they're engineered for off-road performance while providing a smooth and quiet drive on the pavement. Our technician, Meng Tea, had the stock wheels and tires swapped out quickly for the TEs/NIttos, but swapped over the factory TPMS (tire pressure monitoring system) sensors to avoid a tire pressure warning.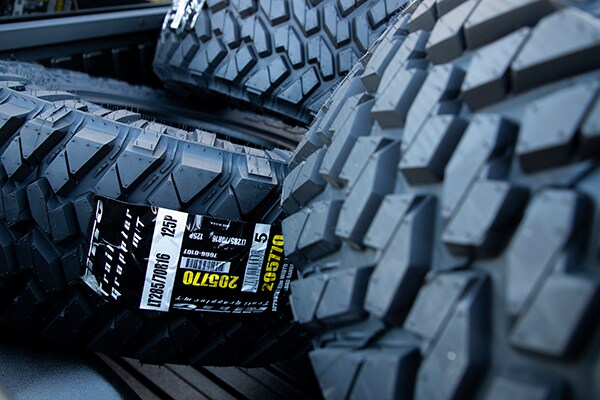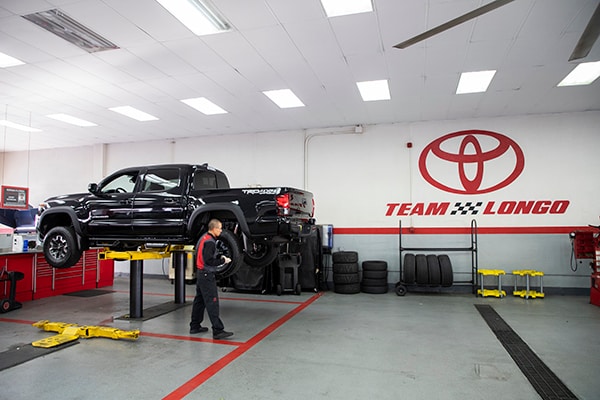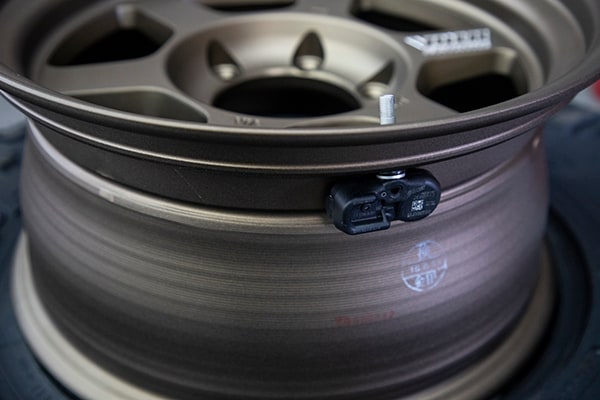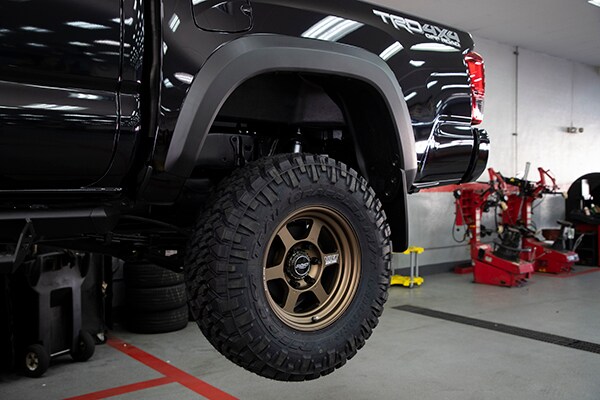 AutoTuned Custom Vinyl Wrap/Graphics
One of the most challenging aspects of our build was the graphics. We couldn't just take a stock body Tacoma to SEMA, even though it would've been clean and simple. Instead, we looked to Young Tea and AutoTuned to help give it some life. We found inspiration from TRD (Toyota Racing Development), and decided that would be the best way to pay tribute to Toyota while staying in theme to Longo's brand identity. This included wrapping the truck bed red, adding silver and white stripes along the rear doors, and a partner roll-call to match the entire design. From start to finish, Young and his crew puts an extreme amount of attention to applying vinyl correctly, taping off various sections to prevent unwanted damage while securing the vinyl to the different body panels. They are masters of their craft, working the entire night to make sure it was show ready before being loaded onto the transport for Vegas!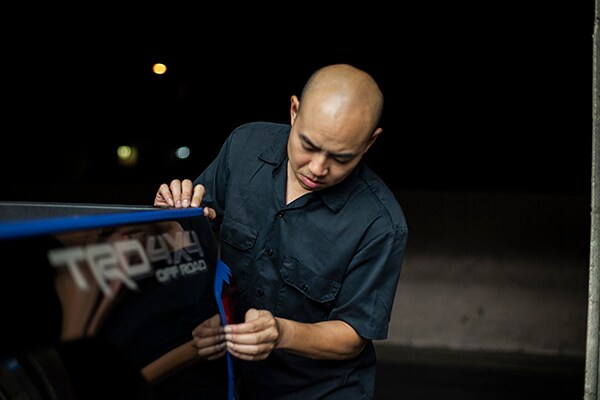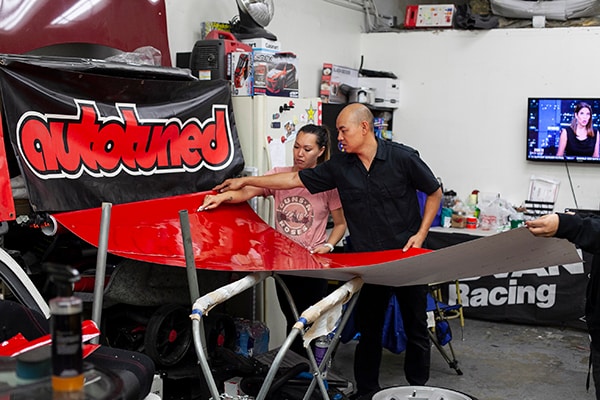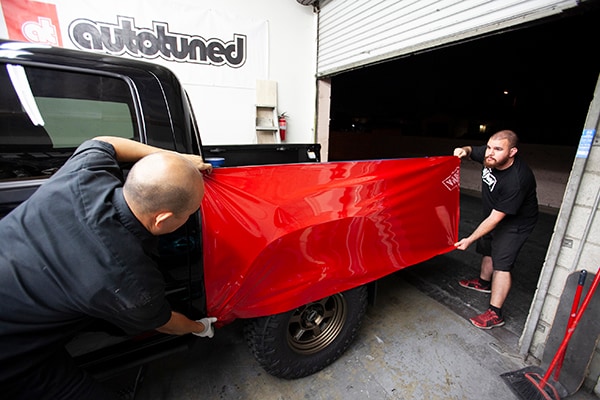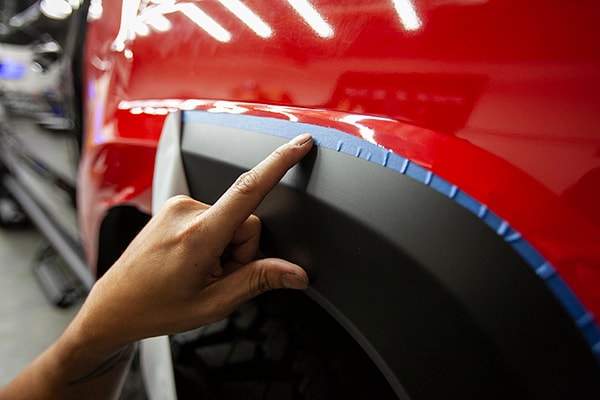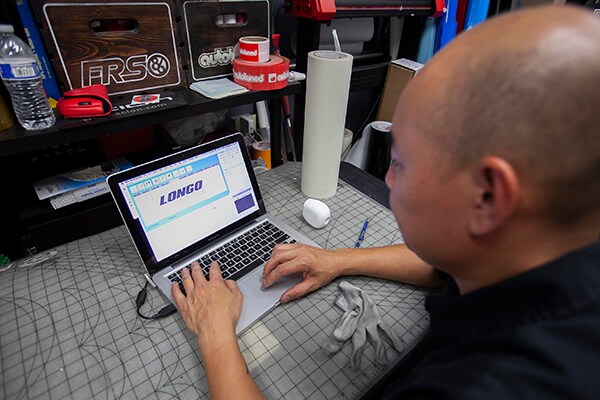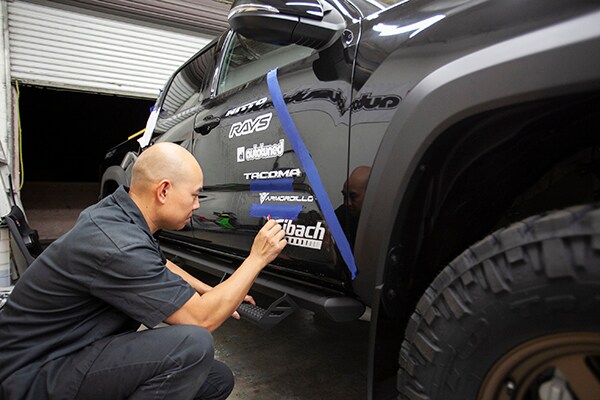 See You In Vegas!
In roughly two months, we went from stock to shock. We are exciting to unveil our SEMA Tacoma project to the world, and hope you have a chance to see it if you're attending the show! We'll be bringing coverage of this build to you from Vegas, along with as many other Toyota vehicles as we can find.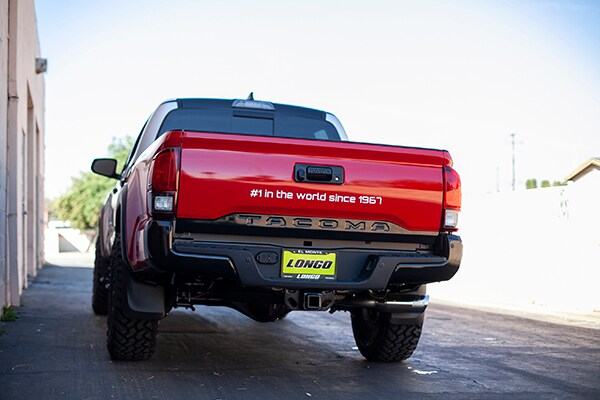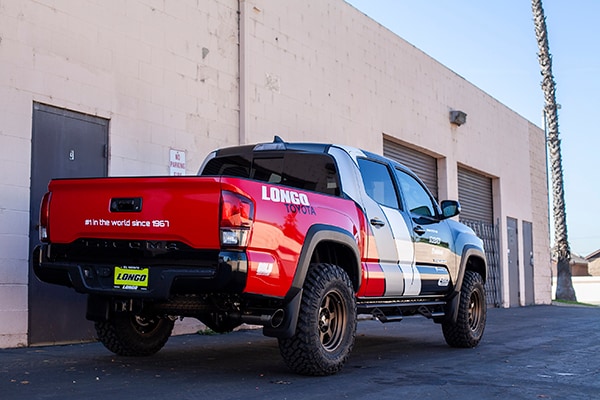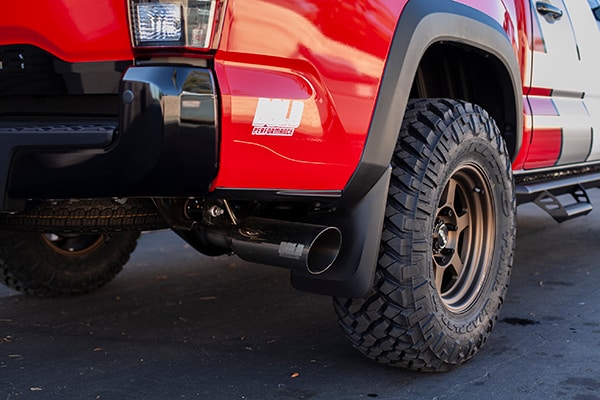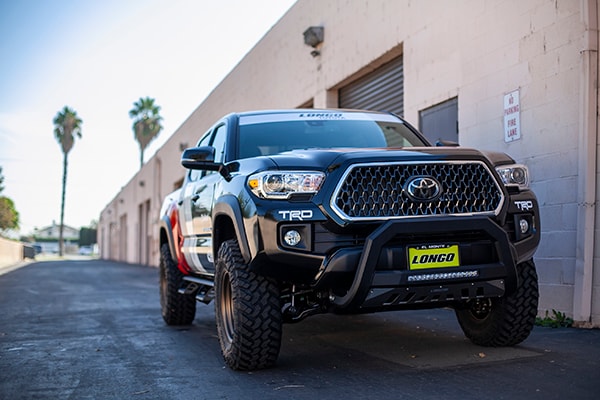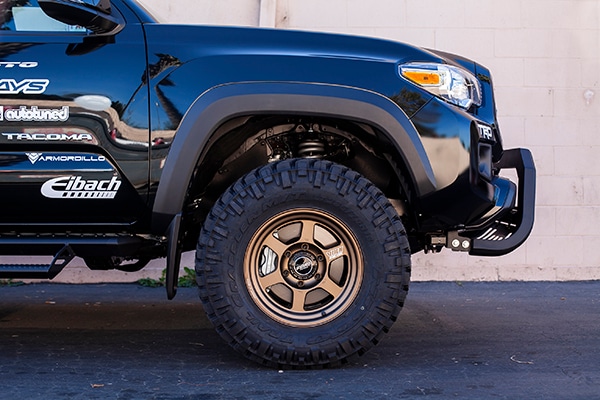 For more information on our build partners, please visit:
Armordillo, https://armordillousa.com
Mackin Industries (Volk Racing), http://www.mackin-ind.com/volk-racing
Nitto Tire, https://www.nittotire.com
AutoTuned, https://www.instagram.com/auto.tuned